The Ford Ranger is back and ready to rumble! As a leader in the mid-size truck segment, the Ranger is a compact truck with a new engine, new look, and new features. But how does the 2019 Ford Ranger compare to the 2019 Chevrolet Colorado? Let's take a look at the head-to-head comparison between the 2019 Ford Ranger vs the 2019 Chevrolet Colorado in the areas that count the most.
Cargo and Passenger Space - Ford Ranger vs Chevy Colorado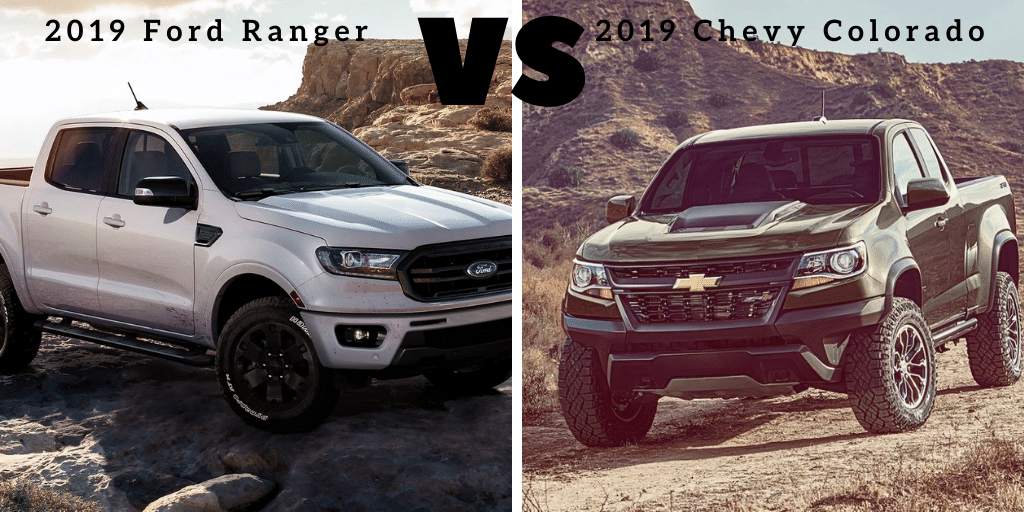 While both trucks have an attractive exterior, the Colorado is noticeably narrower than other midsize trucks, which translates into less interior space and a less comfortable ride. In contrast, the 2019 Ford Ranger is a mid-size truck that offers more space inside. The Ranger SuperCab comes with standard seating for four and a generous 6-foot bed. However, the larger SuperCrew Ranger offers seating for five, four full-size doors, a more spacious back seat, and rear under-seat storage.
The 2019 Colorado comes with standard seating for only two passengers. Even if you step up to the Chevy Crew Cab five-seater, it's more uncomfortable and narrower than anyone would like. The narrowness of the Colorado's design means the tailgate is narrower. That being said, it's not even able to fit a 4x8 sheet of plywood or metal, which reduces the truck's ability to do the light work it's expected to do. 
Towing Performance: 2019 Chevrolet Colorado vs 2019 Ford Ranger
When it comes to performance, the 2019 Ford Ranger offers you the most bang for your buck! Simply put, the Ford Ranger's base engine - the 2.3L EcoBoost Engine - delivers Best-in-Class gas torque of 310 lb.-ft., which produces a remarkable 7,500 pound max towing capacity as well as an impressive 270 HP. In addition, you'll enjoy Best-in-Class Maximum Payload of 1,860, so you'll always be prepared for your next big adventure. 




On the other hand, the Colorado comes with a standard 2.5L 4-Cylinder engine that only produces 191 lb.-ft. of torque and 200 HP, which results in a menial 3,500 lb. towing capacity. While you can upgrade to the 3.6L DOHC V6 and get more towing capacity (7,000 lbs.), it still falls short of the Ranger's base towing capacity of 7,500. In fact, to top the standard capability of the Ranger, you'd have to open your wallet really wide and go for the DuraMax 2.8L Turbo-Diesel engine, which produces 7,700 lb towing capacity, but only 181 HP. 
Efficiency: 2019 Ford Ranger vs 2019 Chevrolet Colorado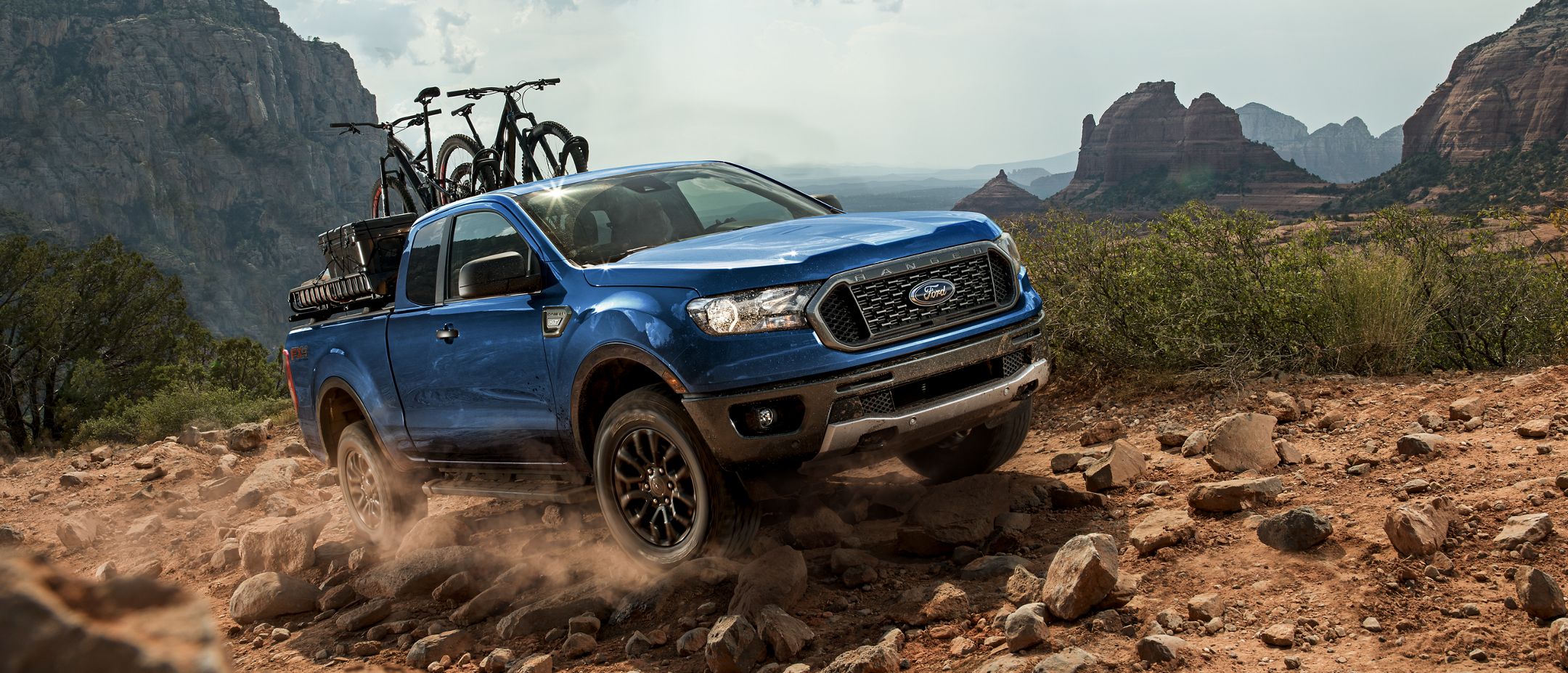 The 2019 Ford Ranger offers you the best of both worlds! In addition to outstanding performance, the Ranger is the Most Fuel-Efficient Mid-Size Gas-Powered Pickup Truck in America. You'll enjoy an EPA-Estimated rating of 21/26/26 MPG (City/Hwy/Combined).  In contrast, the Colorado's 3.6L DOHC V6 engine offers a meager 18/25 MPG (City/Hwy) in addition to less torque and less towing capacity than the standard engine on the Ranger. 
The Ranger's 2.3L EcoBoost engine is engineered with the direct-injection (DI) System that injects gas at very high and precise measures. The engine is also equipped with Ford's Auto Start-Stop Technology that cuts the engine off when you stop to save fuel and automatically restarts when you release the brake. Best of all, Auto Start-Stop instinctively deactivates whenever you're in four-wheel drive mode or when you're towing a trailer. 
Contact Gillie Hyde Ford for New 2019 Ranger Trucks for Sale in Glasgow
When it comes to the best mid-size truck, the 2019 Ford Ranger is in a class of its own! However, you don't have to take our word for it. We invite you to stop by Gillie Hyde Ford today to experience the new 2019 Ford Ranger for yourself. 




Contact Gillie Hyde Ford today for new 2019 Ford Ranger trucks for sale in Glasgow and Bowling Green, KY.