If you are searching for a crossover SUV that's appealing to the eyes but won't break the bank account, the 2019 Ford Edge will meet your needs and exceed your every expectation. Ready to learn more about the 2019 Ford Edge? The experts at Gillie Hyde Ford have your needs covered! For several years, we've proudly served the needs of residents throughout Glasgow, Bowling Green, Franklin, Scottsville, Campbellsville, and Columbia with unbeatable prices and an expansive inventory. 
Below, we've put together a short but sweet review of the new Ford Edge to make your life a little bit easier. If you need further details on the trims and Ford Edge vehicles we have in stock, feel free to give us a call at 888-473-0623 or fill out our online application form. One of our sales representatives will be thrilled to answer any Ford vehicle questions you may have!
The Ford Edge Is Performance Personified!
Although the Ford Edge is an SUV, you'll think you're driving a sedan when you notice how well this car can make tight, controlled turns. Drivers can choose from the turbocharged, direct-injection 2.0L EcoBoost engine or the sporty 2.7L EcoBoost engine. 
It's eight-speed automatic transmission can improve fuel economy by 11 percent compared to the six-speed automatic transmission of older models. In addition to better fuel economy, the eight-speed transmission allows for a fast locking torque converter that provides quicker engagement and less "slip". Why is slip relevant? Less slipping means the clutches on the inside of the unit will receive less wear and tear, increasing the longevity of the transmission. Little perks like these make the Ford Edge stand out amongst its competitors!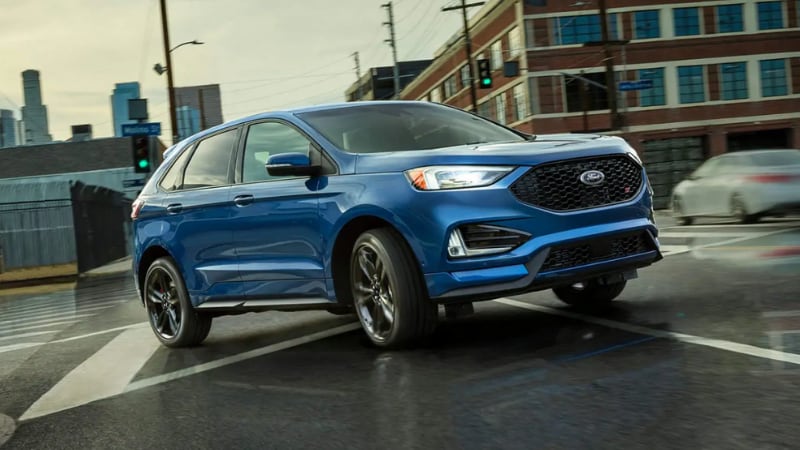 The Stylishly Functional Exterior of the Edge
The 2019 Ford Edge has a bold design that naturally gets the attention of anyone who sees it. The fluid shapes compliment the smooth lines that run through the body, giving it an aggressive yet gentle look at the same time. Top it off with a flashy grille and you have a vehicle that is smoother than silk and more flamboyant than a flamingo.
Exploring the Functionally Fun Interior of the Edge
The stylish outside of the 2019 Ford Edge is matched with a luxurious inside that will have you feeling like your riding in first class. Standard on all models is a leather-wrapped steering wheel that is complemented with perforated leather-trimmed bucket seats. The top notch craftsmanship that goes in to this vehicle can be seen on the instrument panel, the door trim, and center stack, giving it a refreshingly modern look throughout the cabin.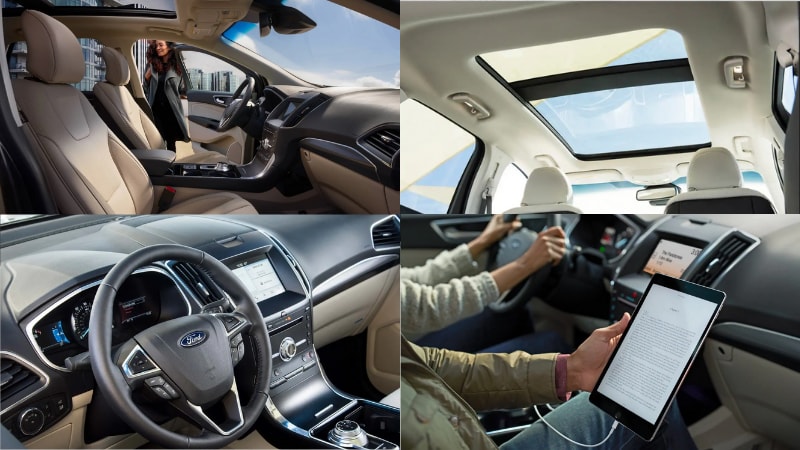 Add in sweet technology like Apple CarPlay and Android Auto, and it is easy to see why so many drivers who give the Ford Edge a test drive instantly fall in love with everything it has to offer. 

The Ford Edge Doesn't Sacrifice Safety

Like most Ford vehicles, the 2019 Ford Edge has received high praise for its safety. The National Highway Traffic Safety Administration (NHTSA) has given the Edge a 4.75 out of 5 stars, an almost perfect rating! Meaning drivers can feel at ease that their vehicle will protect them in a worst case scenario. 
Contact Gillie Hyde Ford in Glasgow for the New 2019 Ford Edge
At Gillie Hyde Ford, we offer a wide selection of new 2019 Ford Edge SUVs across all trims! In fact, we're home to one of the most robust inventories of new Ford Edge SUVs in the Glasgow, Bowling Green, Franklin, Scottsville, Campbellsville, and Columbia area. 
Contact Gillie Hyde Ford Lincoln today by calling 888-473-0623 or by completing our online contact form.