When pick-up trucks first became popular in America, they were known for their durability and ability to help people who needed to do a lot of heavy lifting day in and day out. Fast forward to modern times and many truck owners expect stylish aesthetic features and luxurious comfort inside their trucks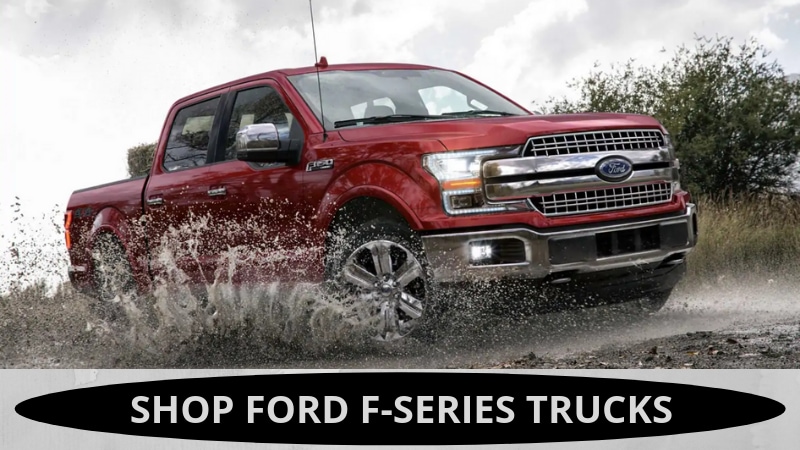 There is only one line of trucks that can perfectly satisfy the old school and new school train of thought, the F-150 and F-Series Super Duty Trucks!
Here at Gillie Hyde Ford in Glasgow, we are crazy about our family of Ford trucks! Below, we've listed five reasons why we hold the F-150 to such a high regard. If you have further questions after reading, don't hesitate to call us at 888-473-0623 or fill out our online application form and one of our representatives will be glad to tell you all about our Ford F-150 trucks!

 

1. The F-150 Is the 2018 Motor Trend Truck of the Year

In case you were living under a rock, did you know that the Ford F-150 has been the top selling pickup truck since 1977? For over 40 years, the F-150 has been at the top of the food chain and no competitor has been able to knock it off! And if you need a little more power and umph, the Super Duty F-250 and F-350 trucks take everything you've come to love about the F-150 and gives you more! As an added bonus, the Ford Super Duty trucks are J.D. Power's Highest Ranked Large Heavy-Duty Pickup in Initial Quality.

 
2. Exceptional Fuel Efficiency of the Ford F-150
Ford F-150 trucks have several trims and engines you can choose from. However, if you want an engine that will stretch your gas as much as possible, consider the popular 3.5L EcoBoost V6 engine. At 19/26 city/highway miles per gallon, you'll have the powerful truck you want without the expense of guzzling through all your gas just to go from point A to point B. For the ultimate in fuel efficiency, the 3.0L Powerstroke Turbo Diesel delivers a class-leading EPA-estimated 30 highway MPG to go along with mounds and mounds of muscle.
3. World-Class Interior Features of the Ford F-Series Trucks
From the base model all the way to the more luxurious trim, F-150 and Super Duty trucks provide exceptional comfort to all its passengers. With dual-mode environmental controls, everyone riding inside a Ford truck will get the exact heating and cooling that they prefer.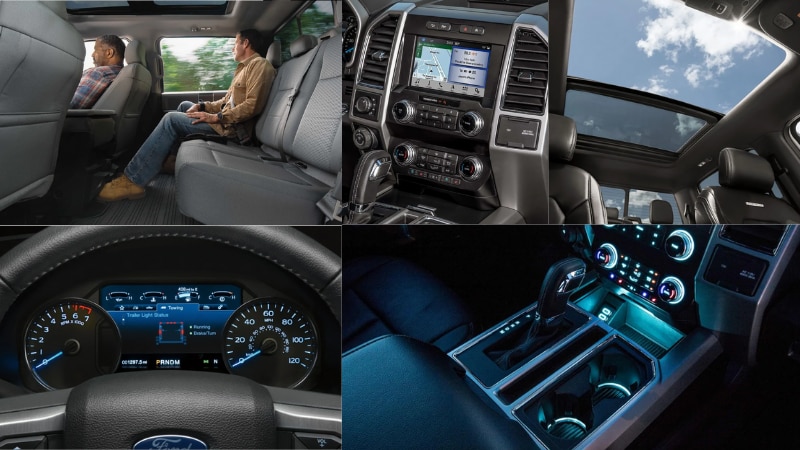 The higher trims boast luxurious features like plush heated and cooled leather seats and much more. Your seats can even have a massage feature built into it, talk about class!
 

4. Advanced Safety Features on Ford F-Series Trucks

While driving an F-150 or a Ford Super Duty truck, you can be confident that you are driving in a well protected cocoon. You and all of your passengers will be protected by high-strength, military-grade, aluminum alloy cabin that is made from the exact high-grade materials used in industrial and military applications. 




In fact, the F-150 was awarded a 5-star rating by the National Highway Traffic Safety Administration (NHTSA), the highest honor attainable. It's solid construction, adaptive cruise control, pre-collision assist, and blind spot information system give drivers and passengers maximum protection.
 

5. The F-150 Boasts Best-in-Class Capability!

If you are trying to tow a large load with your truck, you need lots of torque on a lightweight frame. Depending on how you configure your vehicle, the F-150 towing capacity ranges from 5,000 to 13,200 pounds! No matter what type of hobby or work you do, rest assured, you can find an F-150 to satisfy all of your towing needs.




Simply put, the Ford F-150 outperforms every single truck in its class, including the Ram 1500, Chevrolet Silverado 1500, Toyota Tundra, Nissan Titan, GMC Sierra 1500, and anyone else you can think of!



Contact Gillie Hyde Ford in Glasgow
If you're in the market for a new or used truck, Gillie Hyde Ford is the best new and used truck dealership in Glasgow, Bowling Green, Franklin, Scottsville, Campbellsville, and Columbia, Kentucky. Contact Gillie Hyde Ford today to find your next Ford F-150 or Ford Super Duty truck.